A long vermiform appendix in inguinal hernia sac (Amyand Hernia): A case report in Port Harcourt, Nigeria
Keywords:
Long Vermiform Appendix, Inguinal Hernia, Amyand Hernia, RSUTH, Port Harcourt, Nigeria
Abstract
Background: Early drawings and descriptions of the vermiform appendix had been done by Leonardo Da Vinci and Vesalius and DaCarpi, however, the first known appendicectomy was performed in 1735 by a British Surgeon named Claudius Amyand for a right scrotal hernia containing perforated appendix in its sac. We aim to highlight our experience of Amyand hernia as a case report, to add to existing literature for increased awareness and improved diagnosis.
Case Presentation: A 25year old male who presented with features of a reducible, indirect, complete, right inguinal hernia, and was intraoperatively found to have long vermiform appendix measuring 21cm in the inguinal hernia sac. He had appendicectomy and herniorrhaphy with satisfactory outcome.
Conclusion: A type 2 Amyand hernia was found at elective surgery after emergency room diagnosis of obstructed inguinal hernia in a young male. Scrotal ultrasound scan at the ED could help to improve pre-operative diagnosis in our environment.
References
Paul UK, Naushaba H, Alam MJ, Begum T, Rahman A, Akhter J. Length of vermiform appendix: a postmortem study. Bangladesh Journal of Anatomy. 2011;9(1):10-12.
Bayon H. Racial and sexual differences in the appendix vermiformis. The Anatomical Record. 1920;19(4):241-250.
Patel S, Naik A. Study of the length of vermiform appendix. Indian Journal of Basic and Applied Medical Research. 2016;5:256-260.
Kacprzyk A, DroŚ J, Stefura T, Krzysztofik M, JasiŃska K, PĘdziwiatr M, et al. Variations and morphometric features of the vermiform appendix: A systematic review and meta-analysis of 114,080 subjects with clinical implications. Clinical Anatomy. 2020;33(1):85-98.
Solanke TF. The position, length, and content of the vermiform appendix in Nigerians. Journal of British Surgery. 1970;57(2):100-102.
Seal A. Appendicitis: a historical review. Canadian Journal of surgery Journal Canadien de Chirurgie. 1981;24(4):427-433.
Prystowsky JB, Pugh CM, Nagle AP. Appendicitis. Current problems in surgery.2005;42(10):694-742.
Johnson AB. Current trends of acute appendicitis in africa: A clinical review. International Journal of Healthcare Sciences. 2019; 7 (2): 63-92.
Losanoff JE, Basson MD. Amyand hernia: what lies beneath–a proposed classification scheme to determine management. The American Surgeon. 2007;73(12):1288-1290.
Losanoff J, Basson M. Amyand hernia: a classification to improve management. Hernia. 2008;12:325-326.
Adepoju O, Rahman A, Aladesawe O, Elemile P, Adepoju J. 953 Amyand's Hernia: The Fortuitous Intraoperative Diagnosis–a Case Report. British Journal of Surgery. 2022;109(Supplement_6):znac269. 46.
Nowrouzi R, Gupta R, Kuy S. Left-sided Amyand Hernia: case report and review of the literature. Federal Practitioner. 2021; 38(6):286-290. doi:10.12788/fp.0136
Rangarajan A, Chandrasekhar N. Expect the Unexpected-Amyand's Hernia: A Case Report. Asian Journal of Case Reports in Surgery. 2022;13(3):9-12.
Ogbetere F. Amyand's Hernia: Case Report of a Rare Finding in Inguinal Hernia Surgery. J Med Bas Sci Res. 2021; 2(1):155-159.
Ogwuche E, Soo C, Animashaun A, Ochoga M. Obstructed Left Amyand's Hernia in a Seven Month Male Infant with Meatal Stenosis: Case Report and Review of Literature. Journal of BioMedical Research and Clinical Practice. 2019;2(2):150-154.
Kidmas A, Iya D, Yilkudi M, Nnadozie U. Acute appendicitis in inguinal hernia: report of two cases. East African medical journal. 2004;81(9):490-491.
Oyelowo N, Halima AO, Muhammed D, Ibrahim AA, Peter O, Muhammed A. Appendiceal fibroma in an Amyand's hernia mimicking a supernumerary testis: a case report. Tropical Doctor. 2020;50(4):380-383.
Nwagbara VI, Asuquo ME, Archibong AE, Etuk E, Uchejeru IO. Complicated Left-Sided Amyand's Hernia in an 18-Month-Old Boy: A Case Report and Literature Review. Case Reports in Clinical Medicine. 2016;5(1):1-5
Ijah R, Wakama I, Elenwo S. Spectrum of General Surgery Disease Conditions at The Rivers State University Teaching: A Six-Year Study. Clin Case Rep Open Access. 2022;5(2):216. doi.org/10.46527/2582-5038.216.20.
Alagoa PJ. Pattern of surgical acute abdomen in UPTH, Port Harcourt. Faculty of surgery. 2006. http://dissertation.npmcn.edu.ng/index.php/FMCS/article/view/1381/101
Dienye PO, Jebbin NJ. Acute appendicitis masquerading as acute scrotum: a case report. American Journal of Men's Health. 2011;5(6):524-527.
Dodiyi-Manuel A, Wichendu P, Enebeli V. Presentation and management of perforated peptic ulcer disease in a tertiary centre in South South Nigeria. Journal of the West African College of Surgeons. 2015;5(3):36-48.
Iwo-Amah RS, Ijah RFO, Tamunokuro TN, Ocheche U. Large umbilical hernia complicating huge uterine fibroid: Case report in a tertiary hospital in Port Harcourt, Nigeria. World Journalof Advanced Research and Reviews. 2023; 17(01): 285–290. doi.org/10.30574/wjarr.2023.17.1.1451.
Ordinioha B. Incidence and reasons for Discharge Against Medical Advice in a tertiary health care facility in Port Harcourt, south-south Nigeria. Journal of Community Medicine and Primary Health Care. 2013;25(2):53-58.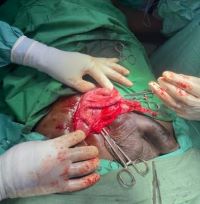 Downloads
How to Cite
Ijah, R. F., Sonye, U., & Nkadam , N. M. (2023). A long vermiform appendix in inguinal hernia sac (Amyand Hernia): A case report in Port Harcourt, Nigeria. The Nigerian Health Journal, 23(2), 693–697. Retrieved from https://www.tnhjph.com/index.php/tnhj/article/view/677
Section
Case Report and Series
License
Copyright (c) 2023 Journal and Publisher
This work is licensed under a Creative Commons Attribution-NonCommercial-NoDerivatives 4.0 International License.
The Journal is owned, published and copyrighted by the Nigerian Medical Association, River state Branch.  The copyright of papers published are vested in the journal and the publisher.  In line with our open access policy and  the Creative Commons Attribution License policy authors are allowed to share their work with an acknowledgement of the work's authorship and initial publication in this journal.
This is an open access journal which means that all content is freely available without charge to the user or his/her institution. Users are allowed to read, download, copy, distribute, print, search, or link to the full texts of the articles in this journal without asking prior permission from the publisher or the author.
The use of general descriptive names, trade names, trademarks, and so forth in this publication, even if not specifically identified, does not imply that these names are not protected by the relevant laws and regulations. While the advice and information in this journal are believed to be true and accurate on the date of its going to press, neither the authors, the editors, nor the publisher can accept any legal responsibility for any errors or omissions that may be made. The publisher makes no warranty, express or implied, with respect to the material contained herein.
 TNHJ also supports open access archiving of articles published in the journal after three months of publication.  Authors are permitted and encouraged to post their work online (e.g, in institutional repositories or on their website) within the stated period, as it can lead to productive exchanges, as well as earlier and greater citation of published work (See The Effect of Open Access). All requests for permission for open access archiving outside this period should be sent to the editor via email to editor@tnhjph.com.